Youth Happenings
ALL Youth in grades 6-12 and their friends are invited to join us!
We are enjoying another fun and exciting year with the MUM Youth Group!
Youth Group meetings are the third Sunday of the month in between services in room 7 and open to any 6th-12th grader and friends.
Share the Love Sunday
Youth Souper Bowl
Sunday, February 4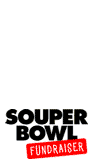 We are asking you to Share the Love this month with our Youth Group and support their Souper Bowl Fundraiser. This fundraiser will allow the youth to go on a summer mission trip through Uth4Mission and Share the Love with other communities that need some extra help.
On February 4, Share the Love Sunday, following the 9:15 service, we will hear a presentation from our youth about their experiences at SPARK in January and their Mission Trip coming up in July. (If you attend at 11:00, come at 10:00 to hear the presentation.) Following the presentation, everyone is encouraged to Share the Love by buying a soup lunch from the youth.
Souper Bowl lunches will also be available after the 11:00 a.m. service.
As Justin says, "This should be the most relational 'Share The Love' we've done. We aren't just doing a project and sending it out to people we don't know. We are investing in our youth both financially and relationally to empower and equip them for what God is going to do through them in the summer." This is a great time to get to know our youth as we hear about their SPARK trip, as well as, help them fund their mission work. Not to mention, a nice hot bowl of soup is always welcome this time of year!
After the youth presentation, you may purchase your soup lunch to eat in or take out. The meal will consist of a bowl of soup (tomato, chili and wedding), corn bread, cookie or brownie dessert and a beverage. The cost will be $10. Hope to see you all there!!
SPARK2K18
Thank you to the congregation for helping us attend SPARK2K18 from January 19-21. Not only did we have a great time connecting with each other, making new friends and attending some awesome break-out sessions, but we strengthen our relationship with GOD. Some quick highlights of the weekend are:
• Justin playing Ga-Ga Ball
• The Middle School boys making it to the finals in the Dodgeball Tournament
• Dinner at Bucca Di Peppo
• David drinking his Happy Meal
• Alex Laret losing his badge and dancing on the stage in front of 600 people
• Unspoken Concert
This is an event we look forward to every year and we wouldn't all be able go without your ongoing support.
Thank you again!
Mike, Jazmin, Hannah, Kaylynn, Elisha, Nathan, Finn, Eddie, Vince, Chase, Danny, Parker, Carsen, Alex, Jenna, Kaylee and Kylie
On October 14, we enjoyed a progressive dinner; a time of great fellowship and food!
On October 21, we went to Gearhard Farms for the corn maze, hay ride and bonfire.
If you are in grades 6-12 and want to get in on the fun, find Shannon or David Williams for more information or email This email address is being protected from spambots. You need JavaScript enabled to view it. .
If you have any ideas about youth group activities, please let us know. This is your group, so let us know what you want to see us do.
Uth4Mission
In July, six of our youth went on a mission to Johnstown, PA via Uth4Mission, which is organized by the conference. During our mission trip we performed various acts of service around the community. Some of us power-washed a house, some of us painted a pavilion, and some of us organized a food pantry. Every night after and sometimes before dinner we would go worship and hear the word of Jesus Christ. When we weren't performing community service or going to worship, we were having fun. We went bowling, played games (inside and outside) and even had a jam session with Pastor Ed.
In a way, this mission made all of us feel like we made a difference in the world and we all thought God was proud of us throughout the whole trip.
We want to thank the congregation for helping and supporting our youth group and sending us on this trip.
See our Mission Trip photos below!
Don't be left behind and join the youth group today.
For more information about Youth Events, please contact Dave & Shannon at This email address is being protected from spambots. You need JavaScript enabled to view it. .
Check out and "like" the Monroeville UMC Youth Fellowship Facebook page to keep with the Youth events!
This email address is being protected from spambots. You need JavaScript enabled to view it. This email address is being protected from spambots. You need JavaScript enabled to view it. This email address is being protected from spambots. You need JavaScript enabled to view it.
Remember this is your youth group and we want to hear your ideas. #Everyyouthhasavoice
We hope to see all youth in 6-12 grades this year at any or all the events. And don't forget to always bring a friend…
Shannon & Dave Williams are our Youth Leaders!
Dave, Shannon and daughter, Hannah.